How to Prepare For a Real Estate Appraisal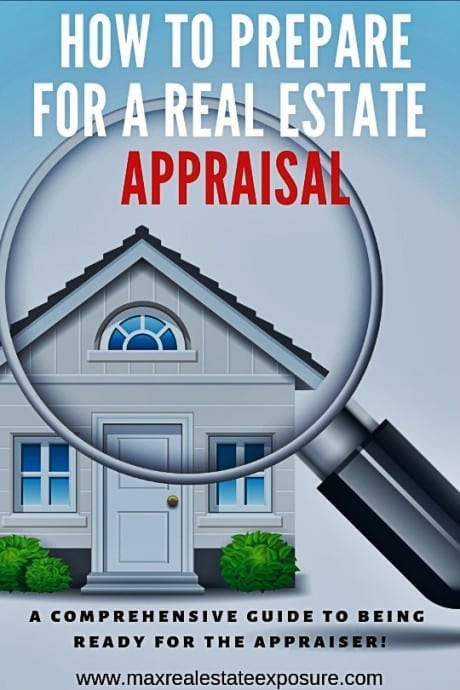 Tips to Prepare for Your Appraisal
If you are planning on selling your home or trying to refinance your mortgage, you will need to get your property appraised as part of the process.
Over the past thirty-two years of selling real estate, lots of sellers have asked me what they need to do to prepare for their real estate appraisal.
They will specifically ask what the appraiser will be looking at. In other words, what is the appraiser appraising?
Getting an appraisal can be stressful, which is totally understandable. The value your home is appraised for will be a primary factor in how much money you can get for it.
A low appraisal tends to mean a lower selling price—not ideal when you want to make as much money as possible from your sale. Fortunately, there are things you can do to prepare for an appraisal.
Read on for valuable tips on prepping for the appraisal so you can maximize the value of your home.
1. Get it done early.
The information you will get from the appraisal is going to play a significant role in the planning process for the completion of your sale. If the appraiser finds a defect with your home, for instance, you can address the problem right away, so you are not scrambling at the last minute.
Of course, if you wait until the last minute to get the appraisal done, it is going to be much more difficult to fix problems before you try to close on the property. Do yourself a favor and get the appraisal done now so you can make informed decisions moving forward.
Ask your real estate agent to keep the mortgage approval date as tight as possible and to get the appraisal ordered.
2. Clean your home.
A clean home is not going to prevent an appraiser from identifying major problems with your property. That being said, there is still something to the idea of dressing to impress.
When your home is clean and organized, it gives off the impression that you take care of the property. The appraiser may be a little less prone to nit-picky observations and maybe a little more motivated to see the best in your home.
An appraiser is human just like the rest of us. The psychology of selling comes into play with a spotless, well cared for home. One of the ratings on an appraisal report is condition – keep this in mind.
Another advantage of cleaning your home thoroughly is that you will be able to see some potential problems that the appraiser would notice. If you find a damp area in the basement that has a bit of mold in it, you can get the problem fixed and the mold remediated before the appraiser has a chance to see it and write about the issue in his or her report.
3. Clean up your yard.
The same idea about cleaning your home applies to your yard and landscaping. You do not need a luxurious lawn and heavily landscaped areas to make the house look nice. But you do need to cut the grass, rake the leaves and tidy things up if you want to put your best foot forward.
Cleaning up the exterior of your home will also give you an opportunity to see problems that you could fix quickly and cheaply before the appraiser shows up. Look around with a keen eye for any apparent defects.
Make sure you take care of any obvious problems like rotting trim boards, leaves hanging out of your gutters, an unmaintained deck and other such issues.
Try to have an open mind and see things like you would be if you're the one purchasing the home.
4. Make it easy to appraise your home.
Another great tip to prepare for an appraisal is to make it easy on the appraiser! Appraisers are people, and most people respond well to being treated with respect and courtesy.
They tend to have full schedules, so making it easy as possible for them to appraise your home is an easy way to get on their good side.
Keep in mind, being on the right side of a professional is not going to make him or her neglect job duties—if there are severe issues with the home being nice is not going to keep them off the report.
Making it easy to appraise your home means cleaning up, removing clutter, ensuring all areas are accessible like attics and basements, being on-time for the appraisal, etc.
5. Remember every $500 matters.
The $500 example is the idea that appraisers tend to measure the value of a home in increments of $500. If you have some minor repairs that need to be done and you leave them for the appraiser to find, he or she is likely to knock some value off of your home.
Things like broken doors, non-functional locks, faulty light switches, leaky faucets, and other minor issues are cheap enough to repair and will help you avoid lost value and increased scrutiny on the part of the appraiser.
Just think about how quickly each issue can add up when multiplied by $500, and you will find it easy to appreciate the value of making minor repairs now instead of later.
Again, this falls under the category of condition which an appraiser will be grading while visiting the property. Blatantly obvious repairs can affect the value of your home.
6. Make sure your real estate agent attends the appraisal.
The best real estate agents will attend the appraisal to help the appraiser. When I'm selling a home in the Metrowest Massachusetts area, I always try to attend the appraisal.
It is important for the agent to bring comparable sales data to support the sales price. The agent can also point out other important things if the appraiser is not aware such as recent improvements, the quality of the neighborhood, and schools, etc.
An excellent real estate agents does more than sell your house – they REPRESENT you at every phase of the sale, including the appraisal. The appraiser will appreciate being helped as well. This is a vital step in getting ready for the appraisal.
7. Make a list of all the upgrades you have done to the home.
A simple list that highlights all the improvements you have made to your home and the expense of those improvements makes it easier for the appraiser to calculate the value of your property.
While appraisers may be on the lookout for upgrades, they are not always going to notice every one you have made, and they are certainly not going to be sure of how much you spent on the upgrades.
The list you make should include the date of your upgrades, all the building permits you acquired, and any warranties that go along with the work. The more recent the improvement, the better.
For example, if you have remodeled your kitchen in the last couple of years, this is certainly something the appraiser needs to be made aware of. Not every improvement you make to your house increases the value. In fact, some can actually hurt your value.
Here are some of the best home improvements to increase value.
8. Pay attention to the area around your home.
Appraisers do their best to research each area they appraise in, but they are not always going to be thoroughly familiar with the area where your home is located.
You may have noticed a new shopping center, an upgraded school, increased access to the highway or other improvements that add to the quality of life in your neighborhood.
Since the appraiser could miss these improvements, it is up to you to make sure that all of them are understood before the appraiser finalizes his or her report. As crazy as it sounds having a Starbucks, Trader Joe's or Whole Foods nearby could increase the value of your home.
8. Consider improving your landscaping.
While you should be careful about how you spend money on improvements before selling—because not all improvements yield positive financial returns—some improvements are a more sure bet than others.
Landscaping improvements can often be done for a reasonable price, especially if you do a lot of the work yourself. And those improvements may add noticeable value to your home.
There is a lot that you can do in a weekend, like planting flowers, shrubs, and small trees, replacing dying areas of grass with more low-maintenance plants and adding a layer of mulch to your flower beds to bring everything together. Even an afternoon of planting and cleaning up can make your home much more appealing to anyone who drives by or walks up to the door.
9. Definitely consult with a Real Estate agent.
If you are selling your house as a for sale by owner, you might want to get some tips from a Realtor. The problem with trying to do everything yourself is that you can miss important things—factors that can make a significant difference in the final value of your home.
Your local agent will be able to provide guidance specific to your home and your area that you cannot find anywhere else.
A quick tour of your home with the agent will get you valuable feedback on what aspects may need to be addressed before the appraiser walks through the door.
The agent can also help you understand what improvements are likely to yield good returns, and which ones should be avoided. The better information you have, the better you can expect to do with the appraisal.
Final Thoughts on Being Ready for A Real Estate Appraisal
Preparing for a real estate appraisal is easy when you know what the appraiser will be looking for. Here is a recap of what the appraiser will be appraising:
The condition of the exterior of your house.
The condition of the interior of your house.
The overall size of your home.
Any recent upgrades you may have done to your home.
Whether your home is modular construction or stick built.
The neighborhood in which your home is located. This would be known as neighborhood appeal.
The desirability of the lot your house is located on.
Any unusual factors which could affect the property both positively and negatively.
These are all things that will impact the value of your home. There are also extraneous features of an area that can have a negative impact on your property value.
What Can Happen When You Are Not Prepared For an Appraiser
The downside of not being prepared for an appraisers visit is that he or she could look at your property unfavorably. Why is this a problem? The appraiser is the judge, jury, and executioner when it comes to providing the lender with a home value.
You may not like what the appraiser tells the bank about the value of your home. In other words, the house might not appraise for the value you expected – the agreed upon sale price. This is the point in time where your stress levels will rise significantly.
You will now be either reducing the sale price of your home to what the appraiser says it's worth or trying to fight it.
Let me be blunt – getting an appraiser to change the value of a home is not easy. Unless the appraiser made a factual mistake, you're probably going to be out of luck.
It sounds like you should take this whole appraisal process seriously right? Hopefully, knowing how to be ready for the appraiser has been helpful.