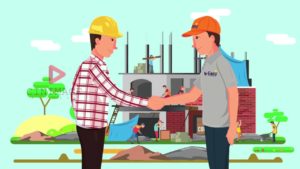 Whether you're putting in new cabinets or gutting the whole kitchen, these tips will give you the 4-1-1 on how to hire a contractor you can rely on.
1. Know Who You Need to Hire
Not all remodeling projects require the same professionals. Some require more than one. Your first step in hiring a contractor will be to know exactly who you need to hire. Contractors may include:
General contractors: They oversee all aspects of a project including hiring subcontractors for specialized parts of each project, pulling permits, and making sure everything is properly inspected.
Specialty contractors: These are the contractors who will come out to install products or features. If you buy a new, monster-sized refrigerator that looks more like a spaceship and you need a professional to install it for you, a specialty contractor will do it for you. If you're only hiring someone to install your new cabinets as part of your kitchen remodel, it will be a specialty contractor.
Architects: When additions, structural changes, and major changes in home layout are involved, architects come in to draw up the blueprints and aid the general contractor in the technical building aspects of the renovation.
Designers: Major remodels, renovations, new homes, and additions usually need a to be completely redesigned. But not everyone has the time or the eye to design properly. Designers will transform your new remodel into the space of your dreams.
2. Ask Around for Referrals
The Digital Revolution might be upon us, but when it comes to hiring a reliable contractor for your remodeling project, nothing beats a good, old-fashioned, word-of-mouth recommendation.
Start by asking friends and family if they have had any renovation or remodeling work done in their home recently and what their experience was like when they hired a contractor. Most people who are close to you won't mind disclosing costs, but even if they aren't comfortable with it, they'll still probably tell you whether or not they were charged a reasonable price. Don't forget to ask co-workers, neighbors, and have everyone ask around for you, too.
3. Use Reputable Referral Websites
Don't trust everything you read on the internet. Googling the name of a business isn't always the most reliable way to check up on their reputation. But there are trustworthy websites that will give you business information as well as reviews on the company and what their experience was like. Sites like Angie's List have become a popular way for people throughout the country to find dependable and affordable contractors and professionals with confidence.
4. Get More Than One Estimate
A good rule of thumb is to get three estimates for a project, especially when you're dealing with a bigger job. This will help you to gauge the personalities, work ethic, and price standards of each company and will prevent you from getting ripped off.
If two quotes come back competitive and the third comes back significantly higher, you know you can cut that one off your list. Don't automatically default to the lowest bidder, though. Make sure to ask plenty of questions about where the money is going.
5. Don't Be Afraid to Ask Questions
When you have each contractor out for estimates, make sure that you ask as many questions that come to mind. A few things to find out include:
How long the project will reasonably take
How many times the contractor or company has completed your specific project
What permits are going to be necessary to complete your remodel and whether or not they'll be pulling them
Whether or not they take care of clean up or if that will be left to you.
The more you know about the process of your remodel or renovation, the more confidently you can trust in who you hire.
6. Verify Their Insurance
All reputable contractors will be well insured. Ask to see copies of insurance certifications to make sure they are current and include:
Personal liability
Worker's compensation
Property damage coverage
7. Ask for References
Any good contractor will be able to give you the names, addresses, phone numbers or email addresses of around three clients they have worked for doing projects similar to the one you're undergoing. Check with these clients and make sure to ask how long it took for their projects to be completed, whether it was completed in time, if they were satisfied with the work done, if the contractor was reliable, and if there have been any problems with the work since having it done. This is a crucial step when you hire a contractor.
8. Make Sure They Offer a Written Contract
Don't ever agree to a business transaction and, above all, never hand over money without a legally binding contract that you have read and agree to. Remember that contract requirements can vary from state to state and some may not even mandate that you have one in the first place. But when you hire contractor that is reputable they will provide one whether they have to or not. Before you sign on the dotted line, make sure the contract includes:
Who is doing the work; the contractor's name
Your name and the address of the work being completed
Estimated start and completion date
A price quote for work completed in a specific time frame
The payment schedule
The contractor's agreement to get any necessary permits
An agreement on how to handle any unforeseen changes, upgrades, or issues
A detailed, itemized list of materials
Any promises or agreements that were made between the two of you
What the contractor will or won't do, including cleanup and trash removal
Any limitations imposed by the contractor
9. Keep All of Your Records
Get a folder and label it for this specific project. Use it to keep track of any transactions, contract copies, contract changes, receipts, expenses, and correspondence pertaining to the project. To be even more thorough, keep a log of all of the phone calls, conversations, and meetings you have with the contractor pertaining to the project.
If by chance you do have problems with the contractor or their work, this detailed file will become especially important for you and will serve as your best course of action in getting compensated.
10. Keep an Eye Out for Warning Signs
Now that you have a good idea of what you should be looking for to hire a contractor, you should also know what to look for in a bad one. Never hire someone who:
Knocks on your door and asks if you're looking for a contractor, no matter how much of a discount they offer
Offers to use leftover materials from previous jobs
Offers a discount for you paying in all cash
Pressures you for an on-the-spot answer, or acts too pushy
Asks you to pay for services up front before work is completed
Requires you to get the necessary building permits
Doesn't have a listed business number listed in a local directory
Doesn't have an online footprint (not every company has a website, but you should still be able to find a legitimate trace of a reputable business online)
Hope these tips on how to hire a contractor where of help and when you are ready to sell your current home in Stephenville or buy a new one, or looking for a place to build your dream home in Stephenville contact us