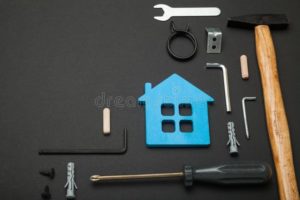 Outdoor lighting. Early summer is the perfect time to plan on adding or updating landscaping lighting. The most energy-efficient, easy-to-install option is solar lighting, but it won't perform as well on dark or snowy days. For light no matter the weather, install electric. LED bulbs last up to five times longer and also use less energy than comparable bulbs.
Clean your house's siding. Clean it this month with a soft cloth or a long-handled, soft-bristled brush to guarantee that longevity. Siding will stay clean and trouble-free for up to 50 years.
Your home foundation. Inspecting your foundation. Look for crumbling mortar, cracks in the stucco, or persistently damp spots (especially under faucets). Once inspected call a pro to fix any  issues now, before it becomes an emergency later.
Driveway asphalt. Weather, sunlight, cars, bikes, and foot traffic – all of these deteriorate the asphalt. Help it last by sealing it.
Buy tools. It's always good to have tools around, you never know when you will need them. June is the month everyone can get a deal on tools, tool bags, and that multitool you've had your eye on since Father's Day is in June.