Color can influence the human brain in a number of ways. Pay closer attention to the colors in your marketing and listings.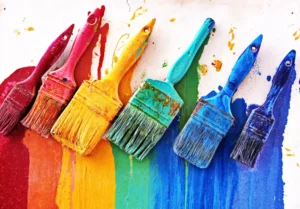 Most stagers recommend neutral colors such as beige or grey to attract more buyers. This advice isn't always accurate.
Scientists have proven that color can influence up to 90% of homebuying decision. This has a greater impact than previously thought on people's moods. The brain organizes and processes color signals in just a fraction of a second. Color is a universal language, and you can help clients use color science to sell their home.
You may have heard, for example, that exterior paint colors are best limited to only two or three options or that warm neutrals are the best choice if you're looking to make your interiors look larger. This is usually true. Exteriors and interiors that are highly stylized and specific can be off-putting to buyers, especially if they do not match their tastes.
The right colors can be used inside and outside of a home to help buyers make a purchase decision faster. (Spoiler Alert: White does not always give the impression of more space.)
It is scientifically proven that color has a profound impact on our brains. Color science can be used to choose colors that will match desired outcomes. This could make or break sales on the highly competitive real-estate market.
Consider the following scientific findings.
The color green has a calming and soothing effect. However, it can be a bit sickening when used on walls. This is why you shouldn't use it in medical facilities.

 

Instead, use biophilic design–incorporating greenery from plants–which will support a healthier living environment.

Red stimulates the heart, increases metabolism and creates excitement.

 

Too much red can cause anxiety.

 

This is why it's used selectively in retail signage and product labels.

 

Consider Coca-Cola and Target.

 

Use red sparingly as an accent.

Blue is a symbol of trust and stability. Women tend to prefer blue over men.

 

Note: Many financial organizations use it as their primary hue, probably because of the subconscious message it sends.

Some lifestyle brands associate black with luxury. Some studies have shown that a black front door may even lead to a higher sale price and listing.

 ( Get ideas on how to use black.).

A calm hallway can make buyers feel more comfortable.

 

Remember that the type and intensity of lighting can alter the color effects in a space.

 

Warm tones, daylight or LED bulbs will have a huge impact on the color and shading of your space.
Visualize other colors
High tech tools such as virtual reality are able to take this a step further. They allow agents, brokers, and developers to customize properties according to the tastes and imaginative visions of home buyers. You can also use lower-tech versions to visualize the possibilities. You can find these tools by searching online for "paint visualization mobile apps".
Consider obtaining painting estimates from contractors, or displaying paint chips at listings to allow prospective buyers to visualize how they could personalize the walls according their tastes.
Color can be used to drive sales in a variety of ways. You can help clients understand how they react to certain colors by incorporating a fun quiz into your sales process. This can also help clients see beyond the current colors or wallpaper of a property.
Add Color to Your Personal Brand
Color can be used by real estate professionals in their logos and marketing materials to create trust and excitement with clients and prospects. A signature color will help you stand out amongst a sea other brokers and agents. Ryan Serhant is a reality TV personality and the founder of his brokerage. He even invested in a car painted in "Serhant Blue."
Try simple touches, such as colorful eyeglasses frames, jewelry or hats in your signature colors. These can be less costly and still memorable.
Color science is applied to multifamily communities, senior and student housing, commercial spaces and schools, as well as other structures. As researchers continue to learn about the functions of the brain, professionals will learn more about color and how it can affect our actions and reactions. This includes when it comes to real-estate.
Original Blog: https://www.nar.realtor/blogs/styled-staged-sold/how-to-leverage-color-science-in-real-estate