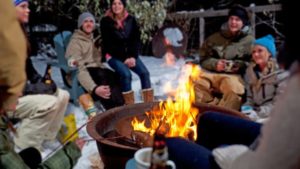 Colder Weather beforehand does not mean that you have to forfeit your precious outside area. This year especially, you're going to want to enjoy your backyard or balcony just as long as possible. Here are a few tips to make the most of your area this autumn and winter.
Clean up before winter
Spruce up your lawn to make an outdoor environment you'll be motivated to enjoy. Make care to clean up and dispose of leaves and fallen branches. For your flower beds, pull out the dead annuals, add mulch, then plant cover plants or add compost.
Heat up it
Electric or propane outdoor heaters will help extend the outside mingling season. Together with freestanding, tabletop, and umbrella-style versions offered in a variety of sizes, there are options available to fulfill your needs. (If you live in a condo, assess regulations .)
Use what you have
Rather than putting it all in storage, then leave your patio furniture out. Insert Some machine-washable covers to present your cushions for a new look. Circle your Furniture round a fire pit and you'll be roasting (and burning) s'mores in no time time.
Look on the bright side
Lights with clear white LED bulbs can make an inviting setting. Solar Powered, weather-resistant lights are less expensive than ever and create for Hassle-free setup and upkeep.
Food for thought
Keep the barbecue in working order and your propane tank filled. Grill up some Goodies, then enjoy them outside. Cheaper and without a line for the toilet.