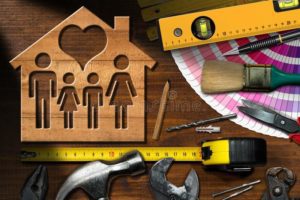 Home improvements that you do yourself can be a great way to feel good. You learn a new skill and can take pride in what you make.
Let's face the facts: A DIY project that doesn't generate income isn't worth it. It must pay off when you sell your house.
To win the home-improvement return-on-investment game, you must adopt a less-is more approach.
It is a good idea to make small improvements that have a positive impact on buyers if you want to get a return on your DIY investment.
You don't have to equip your home with the latest technology, but that doesn't mean that you shouldn't. If you are making a renovation that you love, you should do it. These home improvement projects will give you the opportunity to get creative and make a big impact on your budget.
Refreshing your kitchen cabinets. If the cabinets are in good shape, adding a fresh coat of paint or stain will dramatically transform the feel of the entire kitchen.
Creating curb appeal. Landscaping and gardening are the biggest ones that also are simple. Curb appeal has a significant impact on buyer's purchasing decisions. Making a great first impression on home buyers is one of the quickest ways to boost your home's value.
Giving your front door a new look. Want to boost your home's curb appeal but don't have a green thumb? Spruce up your front door instead. All it takes is a few coats of paint. A fresh color at the front door is a great way to enhance your home's curb appeal for not a lot of money or time.
Adding more storage. Making an addition to your home might not be realistic. But smaller improvements, like adding a pantry in the kitchen, a new storage unit in the garage, or even closet organizers, add valuable storage space to your home and will pay off when you're ready to sell.
Making small repairs. Spending a few hundred dollars on these small repairs will let the buyer know that this house has been cared for.
Making a great first impression on home buyers is one of the quickest ways to boost your home's value.
When your ready to SELL contact Preferred Properties of Texas.
Original blog: https://www.realtor.com/advice/sell/diy-home-improvement-projects-with-serious-return-on-investment/