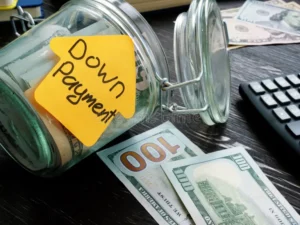 The down payment is one of the most important things to consider when you plan to purchase a home, or hope to do so.
The down payment you pay is a portion of the property's purchase price. In most cases, your down payment for a primary home can be anywhere from 3% to 20%. The down payment amount required will depend on your mortgage type and property type.
You may be able buy a property that is more expensive or receive a lower rate of interest if you pay a higher down payment.
First-time homebuyers often receive gifts to help with their down payment from family, but there are some restrictions.
Gift money: Limitations
When you receive a gift of money for your down payment, a mortgage lender will take into consideration a few factors.
They will first look at the value of the gift. Lenders will also look at the source of the gift and your relationship with the person who gave it to you. If you don't have a close relationship with the person who gave you the money, a lender may not allow you to use it as a down payment.
A lender will require a gift letter if you are using money that was given to you. You should state in the gift letter that you do not have to pay back any loans. You may be asked to show proof that the money was transferred into your account by a lender.
The lender might also ask the person who gifted you to send you a copy their bank statement or check.
Gifts and conventional loans
Conventional loans do not have any guarantee or insurance from the government. Gift money can be used for down payments and closing costs as long as the source is acceptable.
Gifts from family members are acceptable. Families under these definitions include parents, siblings, and grandparents. Included are also in-laws, domestic partners and grandparents.
FHA Loans
FHA loans are available to borrowers with low-to moderate-incomes. The gift money you receive from a donor who is eligible must be used to apply for the loan. Even though conventional loans have stricter guidelines, there are usually more family restrictions.
While the FHA's family relationship requirements are stricter, you can still accept gifts from your employer or charitable organizations. You can also use funds that come from a public entity or government agency that assists first-time or low-to-moderate-income home buyers.
VA Loans
If you are a veteran or service member, you can get a VA loan with no down payment. Gifts for VA loans are restricted if they come from an "interested party".
A party interested in the transaction is a seller or an agent.
Gifts are less important, since you do not have to pay a down payment on these loans.
Learn More About Gifts
In most cases, there are no restrictions on the amount that someone can contribute to your down payment. You may be required to make a down payment using your own funds in some cases. If you are buying a property as an investment, this is often the case.
Your lender can give you a standard letter of gift that the recipient fills out.
Original Blog: https://realtytimes.com/archives/item/1044162-can-you-use-gifted-money-as-a-down-payment?rtmpage=