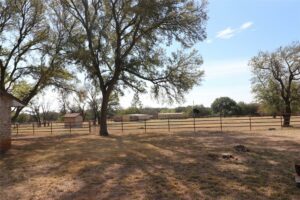 Are you dreaming of a country life, surrounded by nature's beauty and nestled between charming towns? Look no further than this 78-acre haven, a hidden gem bordered by mature oak trees and lush pastureland, a landscape that seamlessly combines rural living with modern comforts.
A Natural Oasis:
As you step onto this property, the first thing that captures your attention is the breathtaking mature oak trees swaying in the Texas breeze. They not only provide shade but also create a sense of tranquility that can only be found in the countryside. The land is fenced and cross-fenced, ensuring security for your livestock and creating distinct, functional areas within the property.
Green's Creek meanders through the landscape, enhancing the property's charm with a beautiful pecan bottom, where mature pecan trees thrive. This slice of paradise is not just a homestead; it's a thriving ecosystem, inviting local wildlife, including deer, to call it home.
Charming Country Rock Home:
At the heart of this property, a rustic country rock home welcomes you with its warmth and character. Featuring 3 bedrooms and 2 bathrooms, this cozy home provides the perfect blend of comfort and functionality. A brand-new HVAC unit ensures year-round comfort for you and your family.
The spacious living room is adorned with a rock fireplace, complete with a hearth and a built-in gun cabinet—a true testament to country living. Additionally, the entryway has a generously sized closet that can be repurposed as a small office, catering to your specific needs.
The separate dining room leads to a well-designed kitchen, complete with ample storage space and built-in appliances. Preparing meals in this kitchen will be a delight as you look out onto the beautiful landscape surrounding your home.
Equestrian Paradise:
For those with a passion for horses, this property is a dream come true. The barn on-site boasts seven stalls and a tack room, ensuring your equine friends are well-cared for. Pipe-working pens and covered feeding troughs are also available, making horse care a breeze.
Additionally, there's a rock equipment barn, providing ample storage for your farming and ranching equipment, further enhancing the functionality of the property.
A Glimpse of the Past:
As you explore the property, you'll discover remnants of history. An old rock bridge, once traversed by an old railroad track, still stands, offering a glimpse into the past and the rich history of this land.
The Ideal Lifestyle:
Whether you're a cattle rancher, horse enthusiast, or simply someone seeking the beauty of the countryside, this property offers the ideal lifestyle. It's a place where you can truly experience "Country Living at Its Best."
Schedule a Showing:
Don't miss the opportunity to make this 78-acre oasis your own. Contact Preferred Properties of Texas today to schedule a showing and experience the beauty, serenity, and endless possibilities that this property has to offer. Embrace the country life you've always dreamed of, right here between Stephenville, Dublin, and Hico. https://www.preferredpropertiestx.com/listings/new-listing-78-acres-of-great-horse-and-cattle-property/
Phyllis Tate- Real Estate Agent