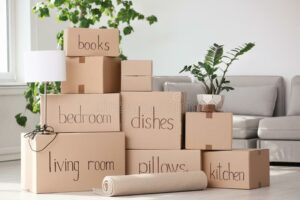 Although it's exciting to move into a new house, many people don't look forward to the actual day of moving. Moving is stressful, no matter if you're moving across the country or within your locality. These helpful tips from professional movers will make your big day easier.
1. It is important to plan your move in advance. It is common for moving companies to be booked weeks in advance. Don't delay your move. If you have large or heavy items that you need to move, let the movers know in advance. It is not a good idea for movers to arrive with a truck too small or without enough people to safely move your belongings.
2. You might consider hiring a moving company to pack your belongings. It may be a good investment if you have the budget to hire packers. The majority of packers are efficient and will take the time to secure fragile items. You can expect your Packers to pack your items the day before you move so that you don't have any extra packing materials until the day you move.
3. Book services. Do not forget to transfer or start services at your new residence. These services could include:
Power
Water
Trash service
Internet/TV/Phone
Gas
Lawn service
Pool service
Monitoring of security system
4. Professional cleaning should be done on your new house. You can arrange for professional cleaning if your seller doesn't make arrangements to clean the house before you move in.
5. Make sure you have a moving supply bag. You should have items that you will need as you unpack and get settled in your new home.
Toilet paper
Use paper towels
Sponge
All-purpose cleaner and glass cleaner
Shelf liner paper
Scissors
Moving furniture pads
Tape measure
Cordless screwdriver
Hammer
Picture hanging kit
Snacks, water bottles, and pet food
Disposable utensils, plates, cups and cups made of paper
Dish Soap & Hand Soap
6. Make Your Bed. Make your bed. Your sheets, blankets and pillows should be packed in clearly marked boxes so that you can easily find them. You'll be glad that your beds are set up so you can collapse when you get home from moving day.
7. The same goes for bath soap and towels. You can pack your bath towels and soap along with your sheets so that you can get in the shower without needing to search for towels.
8. Plan for your pets. Moving day can be stressful for your pet. Plan for your pet to spend the day with friends or family, a pet sitter or boarding facility until they are ready to be moved into their new home.
9. Say yes to helpers It can be difficult to accept additional help from friends or family if you don't know what they can do. These are some tasks that you can delegate.
Install shelf liner in your bathroom and kitchen cabinets and drawers
You can arrange your kitchen items later!
You can babysit your children or keep them occupied.
Place towels in the bathrooms and make your bed
Cleanse counters and cabinets
Packing boxes can be broken down
Hang clothes in closets
Organize your tools and equipment in the garage
Order lunch or dinner
10. A Sitter is available for hire. Children with small children will love their new house, yard, and rooms. While they may want to be there, they won't be interested in moving boxes. You can focus on your work by making arrangements for someone to be there for them. You don't have to worry about them being lost. A friend, family member or hired sitter can take them around their new environment, help build a fort or organize their toys.
11. You can hire someone to hang your artwork. You might not like to hang your art yourself so you can have a handyman come in and help you. This will save you time and help you get settled. A decorator is a better option than a handyman if you need assistance deciding where to hang portraits or art. A decorator can help you choose the best place to hang your items or guide a handyman.
12. You can check out the old house. You should have filed a change in address form with the postal office before closing. Also, remember to remove all keys and garage doors or gate openers. Make sure that the movers do not take any loose items such as ceiling fan remote controls or other small items that are still with the house. You should also clean out any hidden spaces such as crawl spaces, backyard sheds, crawl areas, and other places where items might be stored. It is always a good idea to have your home cleaned by professionals. If you are able, make a list of local vendors who can help with household services.