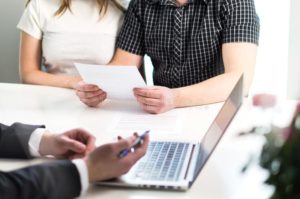 After applying for a mortgage, you will receive a loan estimate. Lenders must give you a loan estimate within three days of receiving your application.
The loan estimate provides details about the loan that you are requesting. This form was created in 2015.
The information you get with a loan estimate may include the following: Monthly payments, estimated interest rates and total closing costs.
Information about insurance and taxes will be provided. You can also find out how interest rates and payments could change at any given time. You will also be informed about the special features of your loan through this form. It will inform you if your loan has a prepayment penalty. If applicable, the loan estimate will also include negative amortization. Even if your payments are on time, negative amortization can increase your mortgage loan balance.
The description of your loan product will include the negative amortization option.
As the title suggests, this document contains preliminary information that is not final. Although it is an estimate, it can help determine the loan you should apply for and make a commitment to.
Buyers will be provided with a loan estimate that includes prepaid interest, third-party fees and closing costs. The buyer will also receive a detailed estimate payment to get a full picture of the transaction's costs. It is easy to compare and see the costs of different lenders as all will use the same document.
Lenders cannot hide fees with loan estimates, which can also be a useful comparison tool.
Lenders are required to give you a loan estimate within three business days after you submit your mortgage application. Before they can provide you with a loan estimate, lenders will need some information, such as your legal name, social security number and proof of income. They also require proof of desired property address, price, and loan amount.
You'll find the following information in the first page and section of a loan estimate:
* The term of your loan is usually 30 years. However, other terms may be possible.


* Product refers to the type of mortgage that you are applying for such as a fixed-rate mortgage or an adjustable-rate mortgage.


* What loan type is it? For example, is it a conventional or VA loan?

 

It could be an FHA loan or VA loan.




* A rate lock is when your lender locks down the interest rate on your mortgage and the expiration date.
Information is provided in the second section.
* How much you can borrow and how it can be increased




* The interest rate is a percentage and can be increased.




* Monthly principal and interest is the monthly mortgage payment, excluding homeowners' insurance and property taxes.




* A prepayment penalty is a fee you may have to pay if your loan was not repaid by the due date or you made an additional payment.




* If there is a balloon payment. This is a lump sum that you must pay at the end your loan term
Information is included in the third and fourth sections.
* Payment calculation: Breaking down your monthly mortgage payment, principal and interest, private Mortgage Insurance Premiums, if applicable, as well as escrow amounts




* Monthly estimated payment




* Estimated taxes and insurance.




* Mortgage closing costs estimates




* Cash to close is the estimated cash amount, which includes closing costs and any other charges you may have upfront
The second page of a loan estimation includes three major elements: loan costs, other charges, and cash to close.
The second page should focus on the origination fees and any fees that you will be charged for items you cannot shop for. These charges vary from one lender to the next, so it is important to compare them. Other charges are not subject to much variation between lenders. You can search for the services needed to close a mortgage. This includes how much they cost. You can't shop services such as an appraisal or credit check.
The name of the loan officer or lender will be included on page three. This information is useful for comparing loan estimates. The first will show you how much of your loan principal your loan will pay off over the first five year. It'll also show your annual percentage rate (APR), and total interest percentage.
It's a great time to review your loan estimate and ask any questions that you may have.
Original Blog: https://realtytimes.com/archives/item/1045883-what-is-a-loan-estimate?rtmpage=