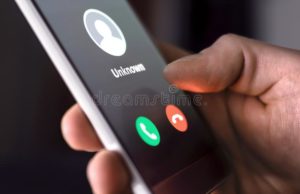 According to First Orion's 2022 Mid-Year Telephone Scam Report, housing-related scams jumped by more than 30% in May. Scammers are increasingly targeting consumers to con them into buying home-related items such as remodeling projects or home warranties.
The report shows that home warranty scams targeting seniors have increased in number. These schemes often offer a callback number, which collects personal information from those who respond. First Orion estimates that the United States received over 100 billion fraudulent phone calls in the first six months 2022. This resulted in financial losses up to $40 Billion.
According to the First Orion report, vehicle warranties, home warranties, social security, financial assistance, and life insurance were the top three most prevalent and emerging phone scams in all industries. Kent Welch is First Orion's chief information officer and spoke to REALTOR(r) Magazine recently about home-related frauds and what consumers should be aware of.
Scammers are big business. We see them adapt their strategies and ploys to the seasons or current events. Seasonal trends are often evident. Tax scams rise during tax preparation season's first quarter. Scammers are also known to exploit consumers' needs. This can be linked to current events and pending legislation, such as student loan forgiveness.
Recently, housing has been a seller's marketplace. Record numbers of people quit their jobs during the pandemic or took early retirement to sell or downsize to get the inflated prices associated with recent home demand. Consumers working remotely have also contributed to an increase in home-buying demand, despite the generally strong job market. Remodeling projects and home improvements are also in high demand.
The interest rates are rising, too. This can cause a rush to the housing market from buyers looking to lock in rates and renters who want to leave but are unable to commit to long-term loans.
Unknown numbers should not be answered. If they feel it is important enough, they will leave a voicemail.
One of the most common mistakes people make when calling is to give out personal information such as their Social Security number and birth date. If you are unsure whether the caller is from your bank, a homeowners association, or a landlord, don't divulge banking information. It's a scam if they ask for wire transfers or gift cards to pay. Look up the phone number and hang up.
Don't listen to the robotic voice asking you whether you would like to be added to the "do-not call" list. Do not press the button and don't answer yes. This will place you on a list with active callers. Don't answer the phone.
Consider registering with the federal No Call Registry.
Branded communication can help businesses restore trust with their customers via the telephone. Calls can be branded with the company logo, department, and reason for calling, both on the recipient's phone and in the call log. This increases the chance that the customer will call back. This helps reduce the number of unanswered phone calls, and it also helps distinguish the legitimate calls from fraudulent calls.
Original Blog: https://magazine.realtor/technology/feature/article/2022/08/know-when-that-phone-call-is-a-real-estate-scam?nwsltr=navnar