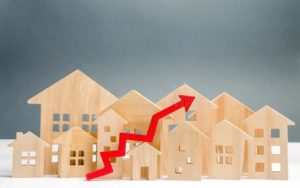 Although homeownership is the largest investment and source of wealth for most households in the United States, there are many factors that make it more difficult to achieve homeownership, particularly for first-time buyers. Rising mortgage interest rates are the latest factor. The average rate for a 30-year fixed mortgage rose 2 percentage points from 3.22 percent in the first half to 5.7 percent in the second half of 2022.
Potential buyers face many consequences from rising interest rates. They reduce buyers' purchasing power. The mortgage payment increases with rising mortgage rates, which in turn leads to a decrease in buyers' purchasing power. This means that it is more difficult for them to get a mortgage loan. The mortgage rate rises means that the income required to be eligible for a mortgage loan for the same home is higher. This effectively pushes out more buyers from the housing market. With a 3 percent rate of interest, 34.8 percent Texas renters could afford the first-quartile price for a home in 2Q2022. With a 6. percent interest rate, this percentage drops to 24.7 per cent.
A higher interest rate equals a higher mortgage payment. This increases the buyer's debt to income (DTI). This makes buyers more risky to lenders and could reduce the chances of getting a mortgage loan. A higher DTI ratio can make it more difficult to repay mortgages, especially for those who have lost their job.
Higher interest rates mean higher mortgage payments. This reduces the return on homeownership and prolongs the time it takes to break even.
To read more click on original article: https://www.recenter.tamu.edu/articles/tierra-grande/Home-Stretch-2362