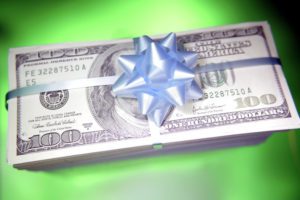 You might consider asking your parents for some help in buying your first home. Lucky you! The biggest hurdle for most homebuyers is securing the funds to pay the down payment and cover closing costs. However, a little financial help can go a long ways in obtaining a financial boost. It is important to understand how lenders treat financial gifts before you apply for a loan. What's important?
Lenders will need to verify that the financial gift is legitimate. The lender will match what appears on your paycheck slips with deposits verification from your bank statements if you submit your bank statements. Deposits should appear on the dates you receive your pay, i.e. if you are paid on the 15th and 1st. If you receive a financial gift, however, the money will appear in your account. Lenders will need to know the source of this irregular deposit.
Lenders want you to be sure that the money in your bank accounts is not from a loan. You will have to repay the loan in either monthly installments or one lump sum. This can impact your ability to repay your mortgage, and at the minimum, increase your debt-to-income ratios.
Family members, qualified non-profits, and life partners are all eligible sources for gift funds. No matter what source you may be, you will need to submit a letter from the donor acknowledging that the funds were a financial gift. You are not expected or required to repay them. You may decide to repay the donor in full or in part if you so choose.
You will need to explain where the funds came from when you receive the gift. Lenders have the right of verifying that the donor is able to pay the gift. They can also expect to be paid back. The donor's source of gift funds will be noted in the gift letter. Simple 'from our bank' will suffice.
If you are hoping to get financial assistance from qualified sources, it is important to know that it is not as easy as saying "it came from my bank account." The funds will be used for financing the purchase of your new house. You'll need proof that the funds are yours and not to be repaid.
Original blog: https://realtytimes.com/archives/item/1045762-understanding-financial-gifts?rtmpage=