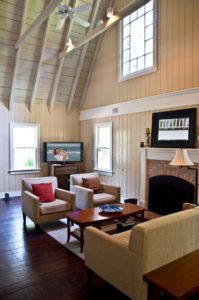 People are looking for flexible, creative living spaces. A barndominium (also known as a barndo) is one option. A barndo can be used as a living space, which allows for living, working, and many other activities.
Fixer Upper made barndos a hit years ago. Fixer Upper was a hit HGTV show. The hosts Chip and Joanna Gaines transformed a barn into a home, generating growing interest.
What is it about these home designs that are so appealing to certain people?
A barndominium, a metal structure with interior living spaces, is an example of a barn. These homes are low-maintenance, energy-efficient, and relatively affordable. Barndominums are sometimes described as a warehouse with charm and features like front porches.
Barndos, apart from Fixer Upper, are very popular because people are seeking more affordable options and living arrangements. They are both economical and versatile in function and design.
The steel buildings are spacious and offer plenty of living space. You have the basics like electricity and plumbing. But there are also more luxurious features such as open-concept floorplans and vaulted ceilings.
You can add a workspace to any design, from a warehouse space to a larger office or workshop area.
Barndos are made mostly from steel and their siding is usually made from sheet metal. They look more like a barn or storage building. The living area is designed around an open area. Modern design is often used for the open space.
Barndominiums can be constructed from steel or solid wood timbers. They are as safe as traditional homes, if they're not, but still offer the same safety. It offers protection from severe weather, water damage and general wear and tear.
A barndominium is typically built in three phases. First, a concrete slab foundation must be poured. Next, the metal frame needs to be built. Finally, the interior living space is created.
While some homeowners prefer to do the majority of the work themselves, others might hire a professional to pour it. Homeowners often hire professionals to insulate their metal frames, even if they do some of the construction.
Conversions and new builds can take six months. If you need to speed up the process, you may consider purchasing a prefabricated barrndominum that comes with all of the available kits. A kit is convenient, although you can't customize it as much.
These kits include everything you need to build the shell of your house. While some kits are simple and include only the essential components, others have customizations, overhangs and wrap-around porches.
In most cases, a barndominium will be less expensive than a traditional home. A traditional home costs around $145 per square foot. Barndominiums can cost as little as $70-$80 per square foot.
A loan for a barndo may be more difficult than a mortgage on a home. This is because lenders often view these homes as barns, rather than primary residences. Because there aren't comparable sales, it makes appraisals more complicated and difficult. Although it is more difficult, financing this type of home is possible.
A barndominium has many benefits, including:
These homes are affordable and offer good value per square footage, especially for larger families.

 

You may pay less in taxes and insurance than a traditional home.

They are durable and last a long time because they have metal roofing and siding.

 

Barndominiums resist termites, rot and mildew, as well as mold.

There are almost limitless options for how to lay out the space.
There are some downsides to a barndominium.
The financing issue was first. They can also be difficult to resell. Bardonminiums may be more popular than ever, but they are still not very appealing to a large number of people. It is difficult to resell these floorplans because they are often very personal to the owners.
Before you decide to build a barndominium, make sure you check the local zoning laws. Because of regulations, they are often allowed in cities. They are less common in rural areas where building codes can be more relaxed.
Original Blog: https://realtytimes.com/archives/item/1045714-what-is-a-barndominium?rtmpage=