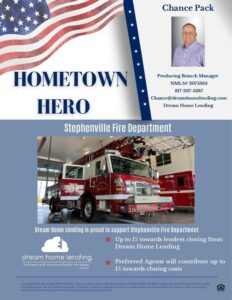 Chance Pack from Dream Home Lending in Stephenville, TX is committed to providing the best home loan solutions for his customers.
Chance has been with us for just a few months, but has already made a significant impact in our office. He is incredibly knowledgeable about the mortgage industry, and is always willing to go the extra mile to help his clients. Born and raised in Texas, Chance is a graduate of Tarleton State University and is a certified Construction and Divorce lender.
Chance comes to us with a wealth of experience in the mortgage industry. He has worked as a mortgage lender for many years, and has a deep understanding of the different types of mortgages available and the lending process. He is a highly motivated and results-oriented individual with a strong work ethic.
I am confident that Chance will continue to be a valuable asset to our team. He is a talented mortgage lender, and is also a great team player. We are proud to have him in our office.
If you are looking for a mortgage lender, We highly recommend Chance Pack. He is professional, knowledgeable, and dedicated to helping his clients achieve their dream of homeownership.