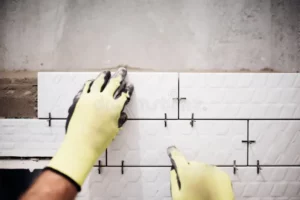 A new study shows that one in ten owners have been scammed by contractors. Here are some reasons why you should use your list of reputable contractors to help your clients.
As home improvement demand remains strong for kitchen and bath remodels, as well as for outdoor renovations, reports of contractor scams are rising. These schemes could cost homeowners thousands of dollars.
About one in 10 Americans have been a victim of a contractor scam, losing an average of $2,426, according to a new study of about 1,000 Americans from JW Surety Bonds. The study revealed the following contractor scams as being the most common: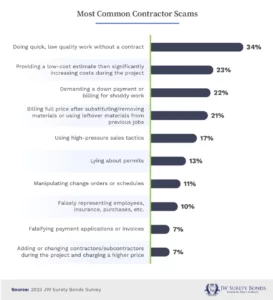 The survey found that baby boomers were the most likely to be scammed by contractors (15%). This is followed by millennials (13%)
Red Flags to Watch
The study identified five indicators that could alert consumers to a scam:
The contractor did not complete the work or did a poor quality job and did not meet agreed standards (63%).

The contractor often arrived late or missed an appointment without a valid excuse (40%).

They added additional charges or fees which were not discussed in advance (26%).

They refused to respond to questions or were evasive when asked about progress updates (25%).

They did not provide a written contract or provided a vague contract that was lacking in specifics about the job or cost (13%).
Maddie Weirman, a spokesperson for JW Surety Bonds, a nationwide provider, offers some of the following tips to avoid contractor scams:
Make sure the contractor has insurance and is licensed. 

Hiring contractors who are licensed, bonded and insured can provide homeowners with extra security. Surety bonds protect them against contractor scams.

Get everything in writing, and review the contract carefully. "Make sure that this contract includes the contractor's name and information and when the project is projected to start and end," Weirman says.
Never pay for the entire amount upfront. A deposit is common but Weirman advises homeowners to wait until the project has been completed to their satisfaction before paying the full agreed-upon amount.
Original Blog: https://www.nar.realtor/magazine/real-estate-news/sales-marketing/5-signs-of-a-home-improvement-scam?utm_term=23EF8E9A-359A-444F-9FB8-E57C0EFE2ABA&utm_campaign=3BFA9068-DFBC-477B-BC94-C168B9A999F1&nwsltr=navnar&utm_content=E07DCD88-9487-4560-A98C-D61CA4615020