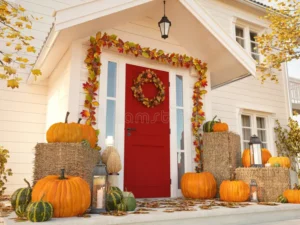 We start the month of October by pulling out all of the ghosts, goblins, bats, skeletons and other Halloween decorations from storage. Then we stock up on gourds and pumpkins. Are you with us?
The arrival of autumn and the candy-hoarding holidays is always a welcomed gift after a hot, long summer.
If you are preparing to sell, your decor may distract buyers and not be an asset. These tips can help you take a measured approach.
Don't overdo it
It's Halloween time! We get it. You're not the only one. Last year, Americans spent $9 billion on Halloween, of which $2.7 billion was spent on decorations. "You don't want the decorations to detract from features of the house," Kevin Lawton, a Realtor with Coldwell Banker Schiavone & Associates in Bordentown, New Jersey, told Homelight.
Color story and decor styles are important to consider
Be careful with the colors that you choose if you plan to bring your Halloween decorations into your interior. Yes, you could load up on orange pumpkins, or you can purchase faux pumpkins in navy blue and emerald green velvet to match what you already have going on.
Safety is important
You want to ensure that there are no hazards in the path of people walking to and from your house. Safety comes first. Always. Make an effort to keep the walkway in front and leading to your house clean. To avoid any accidents, make sure that the walk is properly lit.
Limit inflatables
Your giant Halloween Snoopy inflatable looks adorable. It might be better to store it in your garage for this Halloween. Unless you live in a neighborhood where most or all of the houses go all out for Halloween and your place will stand out for all the wrong reasons if you DON'T cover the lawn with blow-up stuff, it's probably best to go a little tamer this year. (And if you do happen to live in that exuberant neighborhood that warrants a parade of inflatables, be sure to keep them inflated all day. You don't want people driving by or coming for showings with a limp Snoopy spread out on the lawn.) You also want to make sure that your "For Sale" sign is still easily visible no matter what kind of decorations you use.
Do a day-after check
That perfect curb appeal may take a hit on Halloween, so be sure to take a few minutes to look around the perimeter of your home before you leave for work on November 1.
Revival Property Group said, "The day after the decorations go down, check your property for trash, trampled flowers and stray candy". "Freshen your landscape again by trimming bushes, raking leaves, washing the driveway and adding a beautiful autumn wreath on your front door."
Watch out for those pumpkins
Like we said, there are so many ways to decorate with faux pumpkins these days. But if you insist on the real deal, make sure you check them every couple of days to make sure they aren't going bad and haven't turned into critter food.'
Original Blog: https://realtytimes.com/consumeradvice/homeownersadvice/item/1032705-rules-for-halloween-decor-when-selling-your-house?rtmpage=