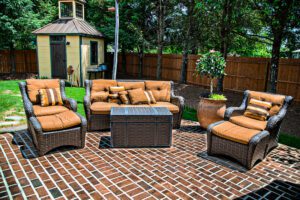 It is never too late to plan and shop for outdoor living spaces of your dreams.
These trends may be worth considering before they sell out.
Even before fall's cooler nights, backyard fire pits had sold out by the end of last year. They were bought by people who wanted to extend their outdoor time. A fire pit can be purchased now to enjoy your backyard in the spring and into the autumn.
Outdoor kitchens will be very popular this year as people want to do all they can outside. A DIY kitchen is possible for as little as $2,000.
The outdoor kitchen can be outfitted with everything from barbecues to natural gas to charcoal, in addition to cabinets. You can choose from traditional black or vibrant colours, as well as stainless steel in various sizes and shapes that will suit your backyard. You might also consider the "connected barbecue", which allows you to control the temperature directly from your smartphone.
Last summer, above-ground pools were sold out. Get one for your kids today. You can also find smaller inground pools that are a bit larger than a whirlpool bathtub for adults. These are great for cooling off and sitting down.
You will need a shed to store your pool-related items. Aluminum sheds are great for tools. But if you need a shed that can also double as an office or cabana in the summer, consider wood sheds that have double doors.
Be sure to consider the functionality of furniture as well as its design. Look for furniture with hidden storage or sectionals that incorporate tables into their designs for small spaces. Wide armrests make it easy to place a glass of wine, or an iPad on a comfortable seat. A coffee table can be raised to a comfortable height, so you don't need additional chairs or a table.
Privacy screens and privacy kits make products that are both functional and beautiful. Privacy is also achieved by garden walls. This vertical trend includes trellises, metal grids and plants grown on them. Vertical garden walls are decorative and save space.
Decorative and edible plants were very popular during the pandemic. To meet the demand, many stores have ordered plenty of seed packets and plants.
There are many options for fountains and waterfalls. You can choose from large, standalone versions or smaller designs that fit on tabletops. The soothing sound of water can drown out any unwanted noises and create a Zen-like atmosphere in the room.
Outdoor lighting is available to help you stay outdoors after dark and create a mood. Outdoor lighting is now possible with the availability of LED lights in a variety of colours, which are popular among teenagers. You can also find adult-friendly versions, which can be used in planters or under the bar counter. You can also find lights on strings and garden lights that will laminate the edges of the path, as well as an umbrella with integrated lighting.
A front porch adds additional outdoor space. You can dress it up by adding curtains to the sides. This will allow you privacy, and also make it suitable for single seating or sectionals.
You can personalize your space by adding style, colour, and accessories. Enjoy it as you see fit.
Original Blog: https://realtytimes.com/consumeradvice/homeownersadvice/item/1041454-hot-outdoor-living-products-for-this-spring