The increase in housing supply relative to last year might not seem like good news for potential sellers. However, it does offer two key opportunities in today's housing market.
An article derived from Calculated risk helps to put inventory gains in 2022 into perspective, by comparing them with recent years ( Graph). This graph shows that supply has exceeded 2021 levels by 58%. The bigger picture is easier to see if you go back further. We are 35% less than the housing stock that we had in 2019, the last normal year of real estate.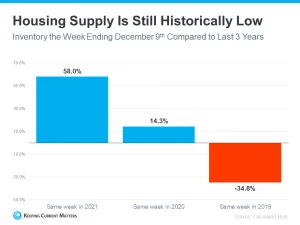 This inventory growth allows you to sell your house if it is not meeting your needs , or lacks the space and features that you desire. You'll find more homes to choose from when searching for your next house.
A local real estate agent can help you stay informed about the properties in your area. A professional can help you write a winning offer once you have found the right one.
However, inventory remains low in comparison to normal years. This is not going to change overnight. If you price your house correctly, it should still be in high demand from potential buyers.
You have many homes available to you if you are a homeowner and want to sell. However, inventory levels may be low so you can still sell your home.
If you're ready to get started, contact Preferred Properties of Texas 
Original Blog: https://www.keepingcurrentmatters.com/2022/12/13/ready-to-sell-todays-housing-supply-gives-you-two-opportunities/