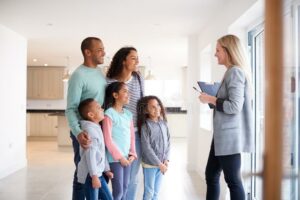 Your REALTOR(r), and you can be a great team. But your REALTOR(r) can't read your mind. Help your REALTOR(r) find the best options for you by sharing what you want and offer feedback.
Talk to your trusted realty professional about what you consider essential, desirable, and unacceptable features. Your REALTOR(r), can help you find homes that have the features that are important to you. Your REALTOR(r), together, can discuss how to achieve your goals. Your REALTOR(r), if privacy is important, could search larger lots, properties close to undeveloped land, homes with tall fences, or fewer neighbors. Your REALTOR(r), if you are looking for homes that can be remodeled or expanded, may be able to help you.
Your REALTOR(r), an expert on the local realty market, can help you find options within your price range. Your REALTOR(r), may be able to provide information about assistance programs that might help you.
This is why you hired a REALTOR(r). Ask your REALTOR(r), about any aspect of the home search or purchase you aren't sure of. Remember that your REALTOR(r), who is bound by a Code of Ethics, may not be able answer certain questions. This includes questions that require opinions, legal issues, or that are outside of the realm of expertise of your REALTOR. Your REALTOR(r), in these cases, can often recommend impartial sources that you may be able to explore.
You have a professional working for you, a REALTOR(r) who will help you to succeed in your transaction. Your vision and the expertise of your REALTOR(r), will help you find the home that you love for many years.
Original Blog: https://www.texasrealestate.com/members/posts/let-a-realtor-help-find-your-dream-home/