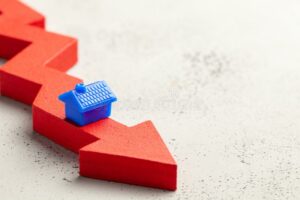 Some buyers are relieved that the housing market in the United States is finally cooling. Home sellers rush into the market to try and take advantage of any remaining price boom.
The median asking price for homes is up 17.8% year-over-year. But sellers are starting to realize the writing on the wall, as buyers become more cost conscious with the rising interest rates. The price drop is the result.
How do you know when it's the right time to reduce the price of a house you have on the market?
The price is usually the reason your home is still on the market
It can be frustrating if your house has been on sale for some time and you are not receiving the offers you expect or if you do not receive the attention that you believe it should. According to real estate experts, it's usually the price that is at fault.
If the buyer feels that the price is good, they can ignore many other factors.
You may be charging too much if you get little traffic or no offers. It's possible that you get a lot of traffic but your offers are lowball. Thirdly, if you have good traffic and negative reactions from buyers, it may be time to pay attention to what they're saying. It's important to listen to buyers who consistently comment on the price.
When to Lower the Price
You should act quickly if you believe you need to reduce the price of a home. It is best to lower the price of your home on the market within two weeks, especially when inventory remains low. You'll usually see the most activity in the first 21-days after your house is listed, so take advantage of this.
You may also want to consider some indicators of the local housing market, such as the average number of days that a home is on the market.
Some real estate professionals recommend a price reduction after a home has been on the market for 10 days.
Before reducing the price, your agent should undertake marketing measures. Perhaps they will need to review your photos again and make sure they are good. You should also list the home in several places and address any feedback from buyers.
Learn about price cuts
It is not easy to reduce the price, and you may have to do so more than once. Your potential for needing to adjust prices increases as your time on the market increases.
You should not make more than three price cuts. You will raise a red-flag to potential buyers if you reduce your price more than three times.
It is also important to reduce the price in a strategic and calculated way. If you started with a high price, you might reduce it by 4% or no more than 9%. You might need to make a small cut if your price is comparable to the market value.
Some real estate agents believe it is better to reduce the price of your home in one go, to avoid having to do it again. You should discuss this with your agent. It's possible that making multiple small cuts will just slow down the sale of your home. This is not what you want.
Original Blog: https://realtytimes.com/archives/item/1045118-when-should-you-lower-your-home-s-listing-price?rtmpage=