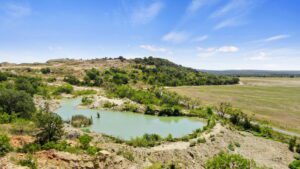 Are you yearning for a piece of land that offers both natural beauty and potential for various endeavors? Look no further than this 326-acre property nestled in the heart of the Palo Pinto hills, just off I-20. This captivating property is more than just a piece of land; it's a canvas of opportunities waiting for you to paint your dreams upon.
A Thriving Cut Stone Quarry with Endless Possibilities
Currently an active cut stone quarry, this property boasts a rich deposit of high-quality sandstone rock—a prized material in both construction and landscaping. With all the necessary permits and licenses in place, the operation can seamlessly transition to its new owner, ensuring a smooth continuation of business. If equipment is required, it's available for separate purchase, streamlining the process and facilitating a seamless transition.
Nature's Beauty at Your Doorstep
But there's more to this property than its industrial potential. The Palo Pinto Hills offer a mesmerizing backdrop of rolling hilltops that gently undulate into the horizon. These hills grant you awe-inspiring views of the surrounding countryside, serving as a constant reminder of the natural wonders that envelope this land.
The property itself is a harmonious blend of woodland and verdant meadows. A mixture of hardwoods and pines creates a captivating tapestry of foliage that changes with the seasons. Throughout the property, you'll find several small wet weather creeks meandering through, adding not only charm but also providing essential habitats for a variety of wildlife.
Endless Opportunities for Recreation and Relaxation
Imagine spending your weekends indulging in the joys of the great outdoors. This property is an oasis for those seeking adventure and relaxation alike. Whether you're an avid hunter, a fishing enthusiast, or simply someone who craves the tranquility of camping beneath the star-studded Texas skies, this land can cater to your desires.
Additionally, if you've ever dreamed of building your own haven away from the hustle and bustle of city life, the stunning hilltop views offer the perfect canvas for crafting your dream home. Every day could begin and end with the breathtaking panorama of the Palo Pinto Hills as your backdrop.
Embrace Your Dreams in Palo Pinto Hills
The 326-acre property in the Palo Pinto hills presents an incredible opportunity to own a piece of land that's not only functional but also teeming with natural beauty. From its thriving cut stone quarry to its rolling hills and tranquil creeks, this property is a playground for those with vision and an appreciation for the great outdoors. Whether you're looking to invest in a prosperous business venture or to create your personal haven, this land welcomes you with open arms.
Don't miss out on the chance to own this slice of Texas paradise. Contact us today to explore the potential that awaits you in the Palo Pinto hills. We have tons of amazing new pictures to check out on our website! https://www.preferredpropertiestx.com/homes-for-sale-details/2141-BLUE-FLAT-ROAD-GORDON-TX-76453/20331513/51/
Case Horton