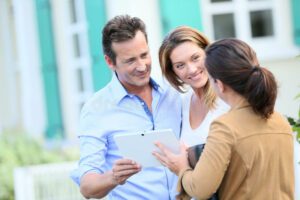 You want to find a realtor that will make the process as easy as possible for you while maximizing your profit when trying to sell your home.
You may be a new agent, and wonder what sellers expect from you. They want you to represent them above all else. They want you to be transparent, to trust you and to minimize any headaches that they may experience.
The following are some of the skills that a great agent for sellers should possess.
Pricing
One of the best things a seller's agent can do for you is to price your home properly. Many people describe pricing a home as both an art and science.
Agents use recent comparable sales to make their decisions. Knowing the local market and having experience are key to being able to use intuition.
A good agent will find the right price balance to keep sellers competitive while ensuring they get what their house is worth.
A real estate agent will conduct a comparative analysis of nearby homes that are currently on the market, have pending sales, or may have just sold. Your agent may have sold these comps, or at least seen them personally.
You might also wonder how an agent can be better than an online model of valuation. These tools have a high error rate. Zillow's online calculator, for example, estimates the value of a home at around 20% of its actual value in 87.6% cases. This leaves a large margin of error. These tools cannot account for the nuances or variables that an agent experienced in pricing homes can.
Sellers' agents should be present at inspections and appraisals in order to prevent any spin from the buyer agent. If an inspector states that a home will require a new air conditioner in five years, then the agent representing the buyer may spin the information by saying that the unit is defective. This can be prevented by a seller's representative.
Get Your Home Ready
Cleaning a house is not enough to get it ready for the market. Listing agents are experts at maximizing the value of your home.
Listing agents can find out what improvements you should make and recommend who to contact to help.
Your agent will discuss the potential return on investment before you decide to make any improvements.
The agent will also stage the property if necessary. The agent can stage the property by removing clutter, furniture and other items that are not necessary. The agent knows how to help buyers imagine themselves and their belongings in the space.
Your agent can then hire a professional photographer to take photos of your home once it is in picture-perfect condition.
Marketing Expertise
Marketing is a key skill for a seller's agent. They will know what buyers want and how to make your house appealing.
Your agent will showcase your home in the MLS as well as on social media. They do traditional marketing, such as open houses and flyers.
Buyers screening
It is stressful and time-consuming to try to sell your home. You don't want to have to deal with unqualified buyers. Your agent will ensure that no one wastes your time. Even a buyer that is truly interested in buying your house might not be able to get financing.
The agents earn money by way of a commission. It is in both your and their best interests to eliminate and screen out unqualified buyers.
Your agent will only work with buyers who are pre-approved and have gone through financial verification.
A good seller's representative can provide you with a great deal of value. Many of the things that they do, you cannot or may not want to do yourself. 
Original Blog: https://realtytimes.com/archives/item/1044820-what-does-a-real-estate-agent-do-for-sellers?rtmpage=