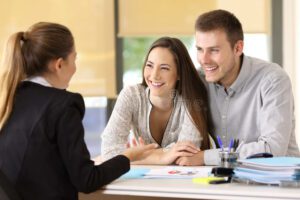 When buying or selling property, we always recommend that you have an experienced real estate agent by your side. If you decide to use a real estate agent, you might be wondering what the difference is between listing agents and selling agents. And which one would work best for you.
Listing agents and selling agent are different in that they represent different parties. While selling agents assist buyers in finding properties that suit their needs, listing agents promote properties on behalf of sellers. Both agents are essential to a smooth transaction and each has their own strengths and abilities.
What can you expect if you hire one? We'll look at what selling and listing agents do and how they can assist you in closing your land deal.
Listing Agents: What are their responsibilities and what is the purpose of them?
You want to have someone who has experience on your side when you are ready to sell land. Listing agents help sellers in all aspects of marketing, listing and selling their properties.
A listing agent's main tasks include:
Price guidance and comparative research

Optimizing Land Listings, including coordination of videos, photos, and text

Overseeing marketing efforts

Coordination of showings

Networking in the real estate community

Receive offers and streamline buyer-seller communication

Organizing closing documents
Ask about the experience of the listing agent in selling land. Some agents may be skilled at selling residential homes but less confident (or less connected) in the land market. You need a listing agent that knows the market well and will guide you at every stage of the sale.
Selling Agents: Their Purpose and Responsibilities
Selling agents are also known as buyer's agent. They work with land purchasers to help them find and buy their ideal properties. If you're on the land hunt, a strong selling agent will be able to provide you with careful guidance backed by market insight. A good agent will also help you with all the tasks you need to complete before closing.
Selling agents may have specific responsibilities, such as:
Helping buyers to define their property needs in terms of location, price and land use

Looking into zoning laws and restrictions

Sorting listings and providing buyers a curated list of properties that match their preferences

Helping with pre-approvals and financing questions

Arranging showings 

Composing offers and communicate with listing agents

Helping to arrange inspections, surveys and other steps of the closing process
You should do the same thing as you would with a listing representative and make sure that a selling agent is familiar with land before you hire them. Selling agents who work primarily in the housing industry may not be familiar with the intricacies of buying land. As a result they won't be as helpful in coordinating the various intricacies involved.
Preferred Properties of Texas  is here to help you find the right property to fit your needs. Gives us a call today!
Original Blog: https://www.landhub.com/land-news/whats-the-difference-between-a-listing-agent-and-a-selling-agent/?inf_contact_key=2e36e998235305cbb9d82c06cb3d63b2680f8914173f9191b1c0223e68310bb1