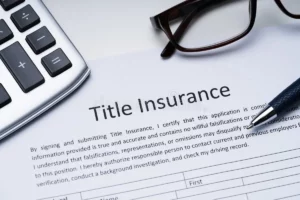 The title is a crucial part of the home-buying process. The title is proof that you own the property you purchase from the seller.
Title insurance is a crucial part of purchasing a home or other property. It protects both the buyer and the mortgage lender from any losses or damages caused by a bad title.
A title insurance policy will cover all major claims against a title including tax owed, liens, and conflicting wills. Code violations and legal complications can all lead to title problems.
You could, for example, discover that the seller has no legal claim on a property after you purchase it. You may also find out that someone else is disputing the claim of the seller.
Title insurance protects you against unexpected problems that could invalidate your title. You're less likely, but still possible, to encounter these issues if you work with a company that handles title insurance.
A title company will conduct a search to ensure that a seller is legally entitled to transfer the title to another party.
There are two types, one for the owner and one for the lender. Both are important protections in a real estate transaction.
A policy to protect against potential hazards is often purchased. It is optional, but it protects against fraud, forgery, or forged documents, as well as against liens and lawsuits that are still pending.
Title insurance is important for buyers because it can give them peace of mind.
In general, the lender's policy is similar to an owner's policy in that it protects the lender from possible losses. This policy covers the lender up to the amount of their loan, but does not protect a buyer.
A warranty of title is an option that you can consider in place of a title policy. A seller will guarantee that they are legally entitled to transfer ownership of a property to a buyer, and that no other person can legitimately claim the property. The warranty allows the buyer to take legal action against the seller if it turns out that someone else has a claim on the house.
Most home-buying deals include a warranty of title by default, but it's not always the case.
The cost of title insurance may be included in a property sale if you are purchasing the policy of an existing owner.
What's your biggest takeaway? Does title insurance need to be purchased if it is optional?
This coverage is a good idea, as you may be faced with situations such as unpaid property tax or fines due to code violations. As a homeowner, you are financially responsible if this happens.
Title insurance is a good way to protect yourself, and feel confident about the transaction.
Original Blog: https://realtytimes.com/archives/item/1047297-do-you-need-title-insurance?rtmpage=