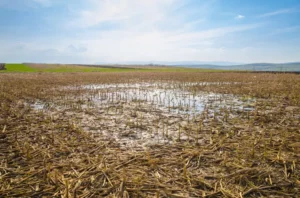 All land owners are exposed to the risk of damage from natural disasters. A post-flooding plan is important for all land owners, especially if you live in a coastal area.
Your plan of action after a flood depends on the extent of flooding and the damage done. Your land type will also be a factor, as certain properties such as agricultural or timberland are more likely to suffer serious, long-term flooding complications.
Here's what you can do in either case to help your land recover from the damage caused by flooding.
Step One: Assess the Damage
Do a thorough walkthrough of your property as soon as it is safe to do so. This will help you determine the extent of damage. Did the flood drown crops? Are there any large structures, such as trees, that have fallen? Take pictures and get a good overview of the damage.
Step two: Contact the appropriate parties
You can get help from a variety of professional parties. State and federal agencies can provide assistance in the event of a natural disaster, as well as cleaning agencies that are able to help with things such as salvage and debris removal. You should also call your flood insurance provider to begin the claim process.
Step Three: Get Rid of Standing Water 
The longer water remains on your land, you are more likely to experience long-term problems like soil contamination and erosion. Sump pumps below ground can be installed in some areas to aid in water removal. However, they may not be suitable for all areas. If you are unsure, call a water removal specialist to help remove standing water and, if necessary, provide drainage options for affected areas.
Step Four: Test Soil
The post-flood cleanup doesn't stop when your land is dried up. Flooding can have a big impact on soil. You'll need test the soil and possibly rehabilitate it to get things back to the way they were. It's best to test your soil after it has dried completely, as this will give you a clearer idea of what you are working with. You should pay attention to moisture levels, decreased Nitrogen, and below-ground debris. These are all things that you need to resolve if you want to see successful regrowth.
Step Five: Leveling the Land
Your post-flood plan should include a final step of leveling any areas affected by soil eroding or deposits. You should be strategic in your leveling efforts. This will not only fix the problem areas, but also prevent them from happening again in the future. Digging new channels or sloping some areas of your property could make a huge difference in the way water flows through your property.
It takes time to recover from a flood, especially if there is a lot of work involved in rebuilding and replanting. Accept help, be patient, and take steps to flood-proof your land in the future. This will ease stress and allow you to get back on track sooner.
Original Blog: https://www.landhub.com/land-news/how-to-restore-land-after-a-flood?inf_contact_key=43946cc45ad9393111304afb1723d8a7680f8914173f9191b1c0223e68310bb1