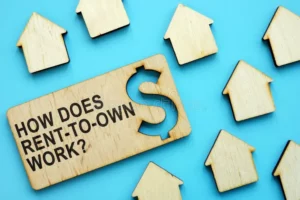 Rent-to-own is an option if you are looking to purchase a house. Rent-to-own is not for everyone, and comes with its own set of pros & cons.
Here's a list of all the things you need to know about renting-to-own before buying a home.
The Basics
Rent-to-own has many appealing features, but it also comes with risks.
When you enter into a contract of this type, you agree to rent a property for an agreed-upon period before you become the owner. The length of time you rent a property can range from a few months up to several years depending on your contract.
A company or an individual may own the property.
The contract stipulates that the seller is entitled to a certain percentage of each rent payment. This money goes towards the equity when the buyer buys the property.
Rent-to-own agreements can be classified into two different types. There are two types of lease-purchase agreements: a lease option contract and a lease purchase agreement. The lease option agreement gives you the option to purchase the home at the agreed-upon time. A lease-purchase agreement is different because you are legally required to buy the home.
The Process
Rent-to-own transactions can have a variety of unique elements.
* The agreement will first specify a price. The price may be based on either the current value or the estimated future value. The price could be set when the buyer and seller sign a contract, but sometimes it's decided after a lease expires.
* As part of the contract, you will pay a certain amount of rent every month. Rent payments will be higher than comparable rents in the area because a portion of the payment is set aside for your future purchase. When you sign one of these agreements it is important to understand what you are agreeing to.
* You pay a one-time, non-refundable fee to the seller. Some sellers will then apply that towards your equity. It's calculated as a percent of the purchase price.
* Your lease contract will specify a specific term.
If you plan to buy a home at the end the lease, you will need to obtain financing. A closing date will be set.
Rent-to-Own: The Benefits
Rent-to-own agreements have many benefits for buyers.
*You can build up your down payment gradually rather than having to pay a large amount upfront.
*When you're ready for a purchase, you don't need to worry about other buyers.
* You do not have to qualify for an mortgage immediately. Instead, you can work towards improving your credit score.
Rent-to-Own: The Cons
Rent-to-own agreements may initially seem like a great idea, but they have a number of downsides.
* You will pay more rent for a similar home, because you're forced to put money aside as a downpayment. You could rent a less expensive home and put your money in a bank account that earns interest to help you save for your down payment.
* You will still be required to pay the non-refundable option money, even if you end up not completing your deal.
* You will likely have to pay for the maintenance and repairs of a house that you do not yet own.
* If the value drops, you may be stuck with an agreement that has a much higher purchase price.
*You may lose equity in your home due to circumstances beyond your control. If the home goes into foreclosure, for example, it is given to the bank.
You must weigh the pros, cons and your own financial situation to decide what is best for you.
Rent-to-own is not always the best option for buyers. It's better to get your finances straightened out and take the traditional route.
Original Blog: https://realtytimes.com/archives/item/1041539-how-does-rent-to-own-work?rtmpage=