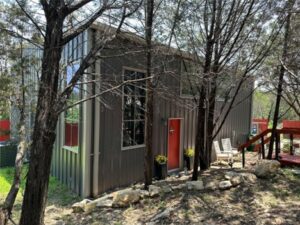 People who are in the market to buy a home have specific needs and expectations. The differences in the personalities and decorating preferences of homeowners makes things even more diverse. Real estate is constantly changing due to all of this. Pole barn houses have been making waves in the real estate market and offer a lot to potential homeowners.
What makes pole barn houses stand out?
Pole barn houses are relatively new to the real estate market. They're also called Barndominiums. Pole barns are converted into living quarters. They can be constructed as homes or combined with other structures and workshops. This makes them a truly unique option for potential homeowners. Check out some of the reasons why pole barn houses are the latest trend in real estate.
Customization Options
Barndominiums are popular because of their many customization options. They are one of the most versatile housing solutions available today. They are available in a variety of sizes and shapes, and their designs can be tailored to suit almost anyone's needs. They can have an open floor plan or be divided into separate rooms like traditional homes. There are also endless compromises that can be made between the two extremes.
Pole barn houses allow for customizations that go beyond the interior and exterior space. The exterior and surroundings of the house can also be customized. Pole barn houses can be customized with different colors and siding options. Also, they can add wraparound porches and patios. These options can extend to outdoor kitchens, entertainment areas, and other features. The design options for outdoor areas with pole barns are endless.
Cost-Effectiveness
Pole barn houses are also becoming more popular because of their cost-effectiveness. They are much more affordable than traditional houses. They require less resources and don't require as much site preparation. They can also be built quickly. Barndominiums are cheaper to build because of this, as well as other factors. Pole barn houses are affordable, making it easier for many people to become homeowners.
Sustainability
Pole barn houses are also attractive because of their sustainability. They don't use as many materials and therefore have a smaller footprint than traditional houses. Many of these materials are more sustainable than the ones used to build traditional houses. Pole barn houses can also incorporate a number of energy efficient and sustainable features, such as solar energy, environmentally friendly materials, and energy saving layouts. These are some of the most sustainable housing options available.
Faster construction
Barndominiums are often built faster than other types of homes. Barndominiums can be built in a few short months, depending on their layout and other factors. After site preparation and other factors are taken into consideration, it can take a long time to build a conventional house. This is a very attractive feature for many potential homebuyers.
A Different Route to Homeownership
Although there are many housing options available, they may not meet everyone's requirements. Pole barns offer a range of unique features that make them a great solution for potential home owners. Pole barn houses are a viable alternative because they offer a range of customization options, as well as greater affordability and sustainability. Barndominiums are the newest trend in real estate.
Original Blog: https://realtytimes.com/headlines/item/1047566-the-new-real-estate-trend-what-makes-barndominiums-unique?rtmpage=wishes